At Joy, we're committed to advancing what we believe is one of the most important emerging endeavors of humanity – improving wellbeing. This is why we're thrilled to share our partnership with Wisdo, the Social Health and Wellbeing community platform bringing people together through shared experiences and challenges and measuring how they move towards increased health and happiness.
And if this past year has taught us anything, it's that loneliness is an urgent health challenge to be reckoned with.
The loneliness epidemic.
Loneliness poses a real threat to our health and wellbeing. Prior to the pandemic, loneliness affected 3 out of 4 people in the United States alone, a number that has only grown in a post-COVID world. Recent Harvard findings showed that an alarming number of Americans, particularly younger ones, have become increasingly lonely – and are feeling it frequently. Another recent Harvard report suggests that 36% of all Americans—including 61% of young adults and 51% of mothers with young children—feel "serious loneliness." The simple fact that loneliness is being increasingly more studied is a sign of society's growing concern towards it.
Loneliness also comes in many guises – it's not merely caused by physical isolation and interaction. Emotional loneliness can come from not feeling heard, seen, or understood, as well as an overwhelming sense of being alone when faced with daily challenges and difficult situations. The current US surgeon general Dr. Vivek Murthy might have defined it best: "Loneliness is the gap between the relationships you have in your life, and the relationships you'd like to have and desire."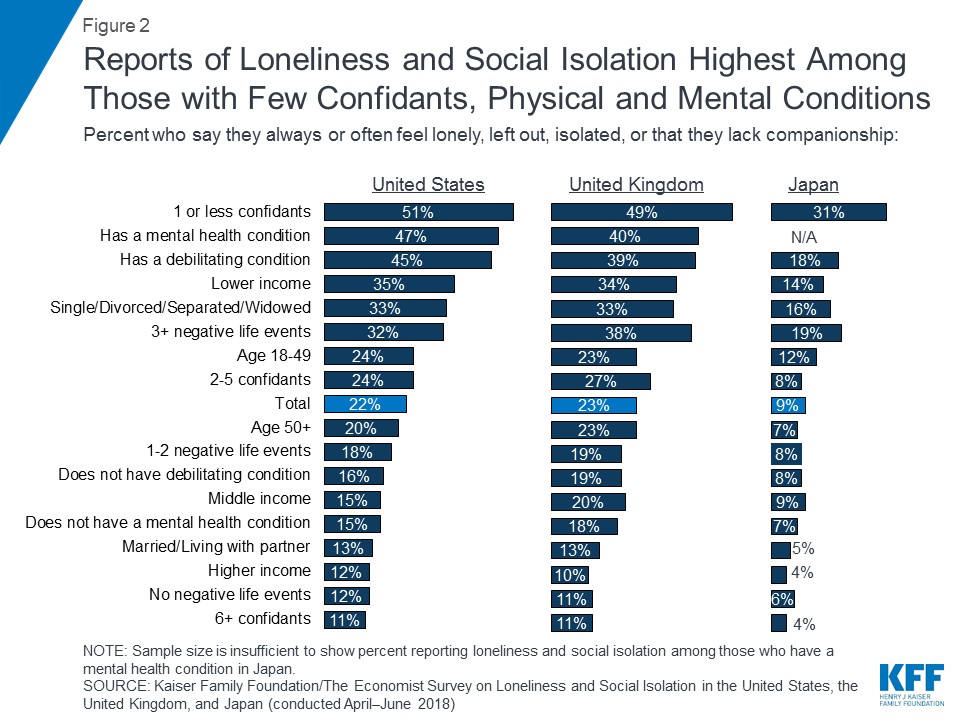 Enter Wisdo.
Wisdo connects people facing similar experiences and challenges through a judgement-free AI powered community that ranks everyone by how helpful they are to others (rather than how "popular" they are). Members never have to feel alone as they will always be able to connect with someone who has "been in their shoes" and get support from personal stories and experiences. Unlike other social media platforms where one may feel the pressure of being measured in 'likes' that aggravates loneliness, Wisdo is about real stories, meaningful connections, and one-on-one support with new-found friends. Rather than matching people by the now controversial Social Graph – it relies on Social Health AI that promotes shared life experiences and helpfulness.
Wisdo addresses a true need for finding support through shared experiences.
Do you ever have a hard time relaying your sensitive experiences to friends (even though they may show compassion and empathy) because you feel like they just 'don't get it' not having experienced it themselves? Wisdo was created specifically to address these emotional roadblocks, connecting disparate people through their shared experiences, and building relationships that have strong and meaningful foundations. They want their users to truly connect with a lending ear that's already been through it. With 1.8 million users and counting, that's already 3.6 million open ears. Impressively, they have been able to measure and demonstrate dramatic Loneliness reduction and an increase in emotional, physical, and mental health by using two widely accepted standard efficacy measures: the UCLA-3 scale and the HRQOL-2 scale.
Wisdo offers ongoing support.
Whether it's loneliness, anxiety, stress, chronic disease, caregiving, or self-growth, Wisdo offers something to everyone, free of judgment and 100% supportive.
In the past, feelings such as loneliness may have been primarily considered an issue for the elderly, but today it is a growing concern among younger generations. The use of social media platforms has been shown to create negative emotions including loneliness and depression (as we've all been made aware with Netflix's The Social Dilemma).
Many other available tech solutions that address loneliness today lack personalization. They often also focus on treating specific mental health issues, such as depression or anxiety, by pairing users with a therapist. This is not only costly to the user, but it serves a very specific goal, and lacks the ongoing availability for life's consequential moments. By providing social health, Wisdo has not only recorded a 24% reduction in Unhealthy Days (within 60 days) but saved its members the equivalent of $1100 annually. With 3 of 5 American self defining as lonely, it's hard to underestimate how much Wisdo can help members as well as health organizations who are seeing medical costs due to isolation spiral across all age groups and conditions. It's high time for Social Health.
Wisdo is making a global mark and building scale.
Consumers love Wisdo. They are a five-time Apple app of the day winner, the #1 app for social impact & personal growth on Google Play and were named by Fast Company as one of the World's Most Innovative Companies. Wisdo's early success as a direct-to-consumer app now positions it well to partner with corporations who want to offer wellbeing to their employees. They've already partnered with Wellbeing minded corporates such as 1-800 Flowers and Scotts Miracle Gro as well as some of the largest health insurance companies to help their customers maintain social health and provide them with real-time insights. Having collected over 200M+ data points that pinpoint what members have been through, where they "are now", and where they would like to get to – Wisdo is well on its way to making the world a better and more emotionally supported place.
Wisdo was created by a visionary and value-driven founder.
The kind that brings us absolute Joy. Boaz Gaon is a visionary, mission-driven founder and captivating storyteller. Before founding Wisdo, Boaz was an investigative journalist, playwright, fiction writer, and social/ political activist. He also led the drama developments for HSCC TV, one of Israel's leading television content companies. He started Wisdo out of personal need and continues to build it for the wellness of mankind.
—
At its core, Wisdo and Joy are built on similar principles; improving wellbeing in great numbers using science, tech, and human-centered design to help people live more joyfully. We're excited to support Wisdo as they continue to scale. Here's to growing together in our new, shared experience!
—–